Being sick is expensive. Time away from work, high deductibles and copays, lab fees, diagnostic tests, prescriptions, emergency room visits and hospital stays—an illness can cost thousands of dollars and put you in debt. Could the right primary care relationship help you save money? Yes it can.
You've probably heard the old adage—an ounce of prevention is worth a pound of cure. While prevention isn't without cost, illness can break your budget. Take heart disease, for example. It's the number one killer in America, accounting for one in every four deaths.
Treating it is expensive. If you have suffered a heart attack, Medicare estimates you will spend 60 percent more out of pocket annually versus someone who hasn't. That works out to $12,000 a year, every year, for the rest of your life.
Even nonsurgical procedures like angioplasty have hefty price tags. Depending on where you live, angioplasty can cost from $44,000 to $145,000. If you have common type of commercial insurance with a co-insurance rate of 20 percent, you could end up paying thousands of dollars, depending on your out-of-pocket maximum. People with diabetes spend 200 percent more on healthcare than people without, and have 2.5 times more out-of-pocket costs.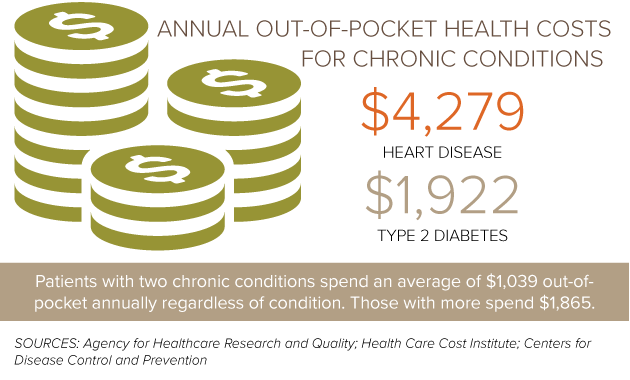 We take time to focus on disease prevention and work with you to help keep you out of the emergency room or urgent care clinic and away from the hospital. We work to reduce your risk of expensive chronic conditions like heart disease and diabetes or help you manage those conditions, so you spend less on healthcare. We have the time to put emphasis on prevention and wellness. We work with patients every day helping to identify risk, prevent disease and optimize treatment, from early detection to coaching patients on lifestyle changes that can really pay off.
In a study published in the American Journal of Managed Care, patients who joined MDVIP-affiliated practices experienced fewer emergency department visits and inpatient admissions than patients who did not join.
Another study published in the American Journal of Managed Care illustrated that patients in VIP affiliated practices were admitted to the hospital 70 percent less than patients in traditional primary care practices.
Patients on average pay more than $1,000 out-of-pocket for hospital stays, according to a study in JAMA Internal Medicine. Emergency room visits for patients on private insurance cost around $622, according to another study by Yale University.
Medical bills can quickly escalate, which is why it makes sense to be proactive — being sick may lead to bankruptcy and other financial hardships. The Fatigue Clinic offers a VIP program that will put you on a better road to health.